Embark on an unforgettable adventure through Sri Lanka's beautiful scenery by taking a bike tour. Explore ancient temples, lush tea plantations, and pristine beaches
The Best Way of Exploring Sri Lanka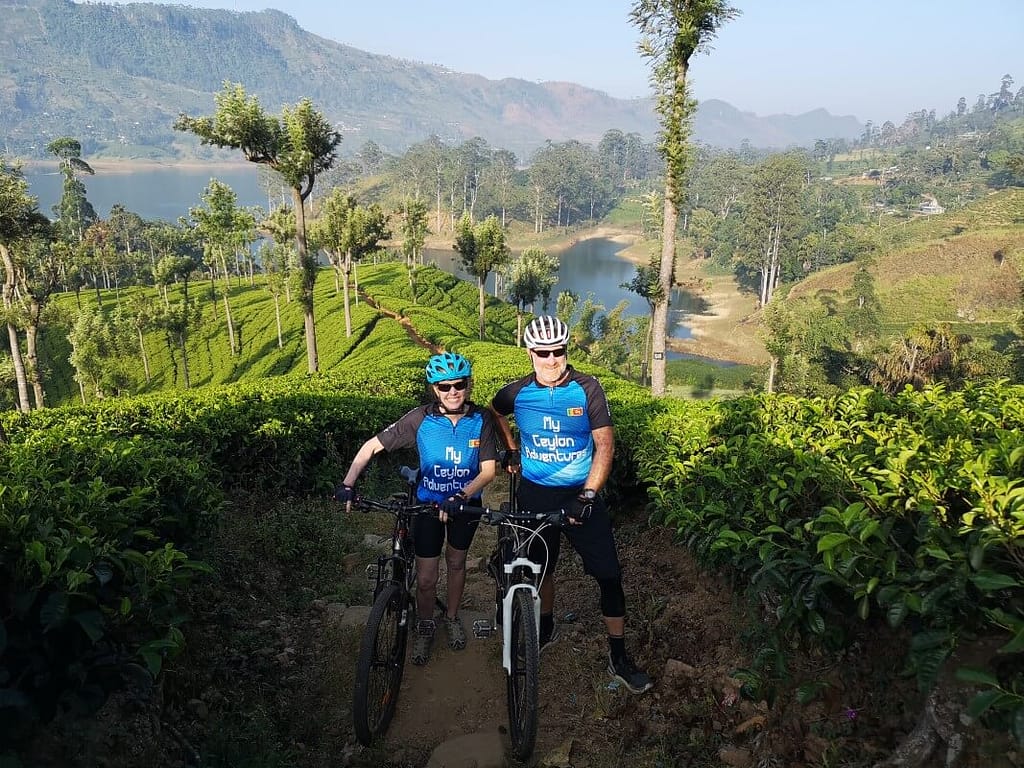 Cycling in Sri Lanka is the best way of exploring the little miracle and cycling in Sri Lanka offers an amazing cycling holiday in Sri Lanka. Sri Lanka is the tropical county and sunshine keeps warming up all the way. Cycling in Sri Lanka all cycling routes develop customize way and explore the nature, countryside, stunning landscapes and explore the beautiful Sri Lanka.
Cycling Holidays in Sri Lanka
There are three different cycling holidays in Sri Lanka. Soft cycling holiday in Sri Lanka are mostly based on flat terrains specially north central part of the Sri Lanka. It is covering the historical cities, explore the ancient irrigation system, traditional farming and wilderness as well.
Medium cycling holiday in Sri Lanka-based in flat and uphill terrains but you will explore the beauty of the countryside in the north central part of the Sri Lanka same as a soft cycling tour and you will cycle greenish tea estates as well. You will not cycle hard climbing 20–30 km in uphill cycling. medium cycling tour is the combination of blending history, nature, and beauty of the S Sri Lanka.
Hard cycling holidays in Sri Lanka-based in uphill countryside and exploring the stunning landscapes, greenish tea plantations. Hard cycling tours in Sri Lanka start the altitude 500 m above the Sea leave (Kandy) and it can go to maximum level 2,300 m above the sea level. Mostly you will get climbing ridings and we are recommending cross country type mountain bikes. Some of the hard cycling tours routes are based on technical terrains and mostly cycling in greenish tea plantations. The hardest cycling tours in Sri Lanka are the best way to explore the British planter's dedication and stunning landscapes.
Travelers feel free to book cycling tours from 1 day to 14 days of cycling holidays in Sri Lanka. Bike Tours in Sri Lanka are flexible and we can customize the cycling holidays as our valued customers expected. Bike Tours in Sri Lanka spice up the cycling tours in Sri Lanka, blending with local experiences. While cyclists are enjoying the cycling tours, explore the customs and culture of the Sri Lanka.
There are two types of cycling tours in Sri Lanka. We are highly recommending guided cycling tours because while you ride along the cities you will never explore the behind picture of the city or historical places. Our cycling guides are expert and while they are cycling with you, shared some interesting historical events, cultural information. It may bring you wow point to explore and your knowledge as well. However, if you are looking self-guided cycling holiday in Sri Lanka, we will provide GPS track and map as well. You will enjoy the cycling tour by yourself. Some of our expert riders interesting cycling by themselves and explore the beauty of Sri Lanka. For self-guide cycling tours in Sri Lanka, we have special touring cycles with luggage bags. We will provide extra accessories with no extra charge.
Customize Your Cycling Holidays with Bike Tours in Sri Lanka
Bike Tours in Sri Lanka are flexible enough to customize the cycling holidays based on the customer requirements. We always concern offer exciting cycling holiday in Sri Lanka. Even we are big enough to handle from 1 pax to over 50 Pax customers at once. Our cycling crew well trained and best in the field. Most of the cycling riders represented the national level and done over 15–20 years cycling as a profession. We can offer multiple languages speaking cycling guides as well, such as German, Italian and Dutch and Arabian speaking cycling guides available.
We are handling all ground works such as transport, hotels, sight seen, leisure activities, food and beverages, cycles, support vehicles and cycling routes management. We wanted to keep our valued customers during their holiday peace of mind and enjoying cycling holiday in Sri Lanka as much as possible.
Once our valued customer selected cycling holiday with us according to the customer travel plan, we will advise the available hotels and alternative hotels (if suggested hotels not available) then after we will take 15–30 min video call and explained entire itinerary. Because we do not want to hear any miscommunication, then our valued customers know exactly what is including and not including. Our representative explained terrain conditions, weather situation, particular period, some of the cycling tips as well. Then our customers are completely aware about the Sri Lanka cycling tour and way of Sri Lanka cycling tour operates. Final stage is payments. We can offer flexible payment terms as well. Once all confirmed, we will forward the "Customer Information sheet" and it is Sri Lanka cycle tour related information about such as customer weight, height, helmet, jersey size, and meal allergies and emergency contact details. Then, after 14 days prior to arrival, we will share the information allocated guide name, his contact, vehicle details. Our cycling guide / driver will pick up you at the Airport mentioned your name or family name.